Innovative Talent Acquisition Solutions
Innovative Talent Acquisition Solutions for our Clients
Today's candidates approach the job market like a consumer; brand perception matters more than ever, however candidates see compensation packages, social security, organization culture, career growth, adaptability, and interests.
Rapidly changing marketplace due to a growing economy, wage dynamics, and higher demand for talented candidates, the employer seeks cost-effective, faster and more productive talents for their sustainable business.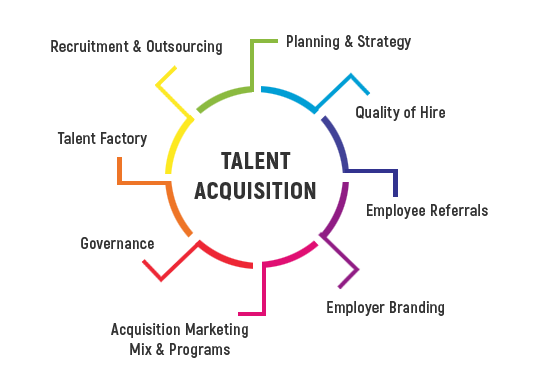 We offer innovative talent acquisition solutions to our talent seekers ranging from consulting, attracting, sourcing, selecting, training, assessment & certification, on-boarding, retaining and employment branding. Our extensive experience on the Acquisition of Blue-Collar, Gray-Collar, White-Collar, Gold-Collar, and Pink-Collar Talents from India, Nepal, and Bhutan with focused on eight key points:

Planning & Strategy
The right talent acquisition strategies can help your company grow and reach its long-term goals. From forecasting demand to developing sourcing plans, investing in your talent planning can yield dividends for your organization.

Quality of Hire
How to measure it and why recruiters should be held accountable?

Employee Referrals
The double bonus of accelerating time to hire and increasing the quality of hire.

Employer Branding
What can recruiters really do about it?

Acquisition Marketing Mix & Programs
Mix of talents from the various regions, including unexplored areas, race, communities, ethnicity, religion within country or territories.

Governance
Hassle-free acquisition drive enabled by our expert Team supported by Governance.

Talent Factory
Production houses in terms of Skill Development Centers, Campus and Universities that nurtures and develops raw candidates into certified talents before on-boarding.

Recruitment & Outsourcing
When choosing any product or service, 'OnDemand Hire', 'Graduate Hire', 'Outsourcing', 'Employment Branding', 'Assessment & Certification' and 'Psychological & DIMT Test, one of the main considerations is always 'how is this going to help my organization?' We help the employer by understanding their culture, values and hiring goals and work as a partner that benefited employers long and short term, can be enormous.